Entries
2014.01/28 [Tue]
My Guilty Dragon Hoarde~
Well, I decided to sum up what cards I have obtained via the trade system during this week, as well as some cards I especially love and love using during the duel!
So, what is the trade system I speak of? It isn't a cheat (The Guilty Dragon staff are pretty watchful for cheating and other stuff which don't comply to the rules.), and it is basically what it is: An official trading post for the players to trade their cards for other cards, items and gold points. If you want a certain card which you usually have to pay for the gatcha (THe digital gatcha-pon within the game. This is the way you get limited cards brand new.), but you don't want to use money, then the trade system is for you. And I have used it the past few days to get most of the cards I want! So lets check out my lil hoarde here~ (Warning: Most of the cards I collected via trade are related to Bomb-Diggity. Expect fangirling ahead. And lots of Emoji.)
---
R+ Holy Angel (Black Santa Claus Xmas event limited card.)
Pridefully flying down from the heavens, he watches the town celebrating Christmas with his gentle eyes. The light reflecting on his body turn into feathers, lightening the people's hearts with justice.
"The light that brightens the world from sadness is from the people's hearts..."
Very first card I got via trading! I just had to get this one since Balmung looks too adorable in this picture! (*´ω`*) I mean, he usually has that strong face saying he will fight, but this one, he looks damn too innocent! (*´Д`*)
N+ Balmung at the Sansha Mairi (New years 2014 event limited card.)
After praying at the temple, he pulls out a fortune strip to know what is to come for the new year. The result was...
".....I shall take this as a obstacle. It says, I must be prepared, and I must prove myself by going through the obstacle."
Sansha Mairi is a new years thing which is exclusive to western Japan, as in places like Hiroshima, Osaka, Kyoto, any part in the west of Japan. As I am someone from the eastern Japan, I don't celebrate that, and I don't have much knowledge of what Sansha Mairi exactly is.
Well, I traded out a EXP core card (Used to make your cards stronger) for this card. His face looks like he is...Pouting a bit? (✧≖‿ゝ≖) Damn it CyberConnect2 stop giving me ladyboners!/PKed. .w. When I got my fortune strip, it says I will have a completely lucky year...And alot of good things have been happening since then!
R+ Penetration of Sins
The Silver Conviction. Could he represent the heavy cross which knights carry?
At times, he is the keeper, on the basis of the doctrine he embraces, he penetrates the sin with virtue. At times, he is the executioner, punishing the convicted one.
Second card I got via trading. After the Balmung phantom event, it seems like some fangirls were upset how his upper armor somewhat resembled Piros' armor. But I totally digress these fangirls; I think there is a difference between The Silver Conviction's bulky armor and Piros' bulky armor; Silver Conviction looks more epic and awesome, while Piros is just overall downright idiotic looking XD.
Anyways, the description makes me think, Balmung must really be an angel of war and retribution in many ways...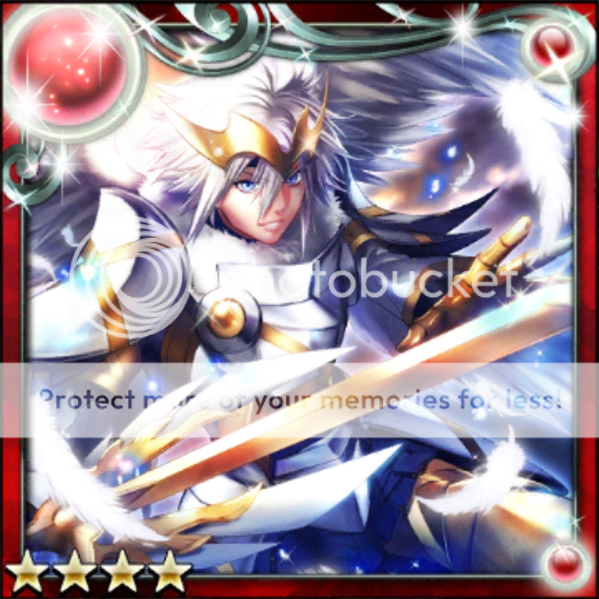 R+ Balmung's Divine Providence
A true opponent for one who defeats enemies in "The World"...
However, if this is the only way to do something, he will never get lost in thought.
"There is no shortage within the opponent! Leave this to me...
Don't take Balmung of the Azure Sky lightly!"
イヤアアアアアアンンンン(*´ェ`*)ポッ!! As Chivalrous as ever! EVER! Now we finally get to see him in Xth forme in Guilty Dragon~! <3
Colbalt Knight Leader's Absence
After leaving the job for debugging, he goes as a solo player, taking a nice walk. Picking up a tomato from the edge of the path, he washes the tomato in a river, stuffing the tomato into his mouth while listening to a babble.
"It doesn't matter if you wash it or not, but this is also roleplaying."
Yay, enough Balmung, so we can take a break here. Well, this is one of the cards which I thought Albireo looked somewhat エロい in this, so headed to the trading post to get this card! But just whose babble is it btw? Hokuto, his mistress witch? ( .∀.) /PKed
Balmung confronting evil. His appearance filled with power, shines divinely. When he takes this stance, he does not draw back a step, he uses his full power to fight.
"Under the name of the Descendants of Fianna, I shall punish you. Are you ready?"
Note: The word in the title is hard to translate, so I will put the title later. :p
Just kidding! I promise this is the last of the last Balmung related card I have collected here! I think this is my favorite Guilty Dragon artwork of Balmung! Sooooo knightly and angelic in this picture! (*´ω`*) And damn those wings look insanely pretty there! I wanna touch em so badly...! (:.;゚;Д;゚;.: )ハァハァ~
OK! These were the cards I obtained via the trading system. Now, I will present you some of my SR cards! ヽ(∀゚ )人(゚∀゚)人( ゚∀)人(∀゚ )人(゚∀゚)人( ゚∀)ノ━
SR Tsukasa Calling for Help
A wavemaster who has shut his heart. Though feeling the pain of having his consciousness stuck in the game, he also has the situation in real life that he escapes reality by playing the game.
"This is my world..."
I just love the use of light and the magic effects in this picture. ( ゚∀゚) I also love Tsukasa's forlorn expression in this picture, which greatly fits the description of this card!
SR Wandering Midori
Realizing the harshness that she does not exist in real life, she searches for who she really is.
"Someone, help me..."
Midori...( ´_ゝ`)I should go read .hack//CELL. I learned some of who she is via LINK, and she is making me very curious.
Meet Oktavia, my player character in Guilty Dragon!
Well, that is my lil guilty show and tell today, and I am thinking I should make this into a mailbag post! So see ya!
Aoi